We supply barcode ribbons for all kinds of Barcode Printers and compatible multi-functional machines to meet the customer`s requirements.
Wax Ribbons
This type of ribbon is coated by highly sensitive and high definition material, it has excellent printing quality even at high speed and on the circumstances of low energy. It can be commonly used in label printing.

Semi-wax (Wax/Resin)

This is heat-rotating-printing ribbons with high quality and element in all labels. It is of the printing show of excellent printing quality, good permanence, low cost, high speed, favorable capability of durable scrape and filth, good compatibility and economic practicality.

Resin Ribbons
This type of ribbons have most scratch and smudge resistant. Ideal for applications that require images to stand up to continuous use in factories and distribution centers. Certain formulations are steam press resistant and others are washable and dry-cleanable.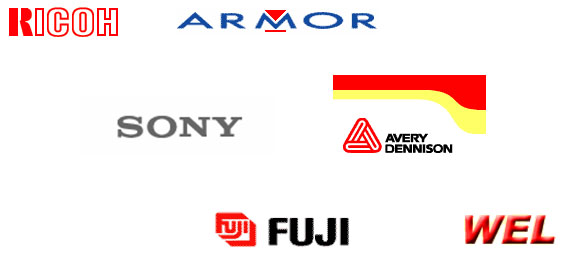 ALL SIZES & SPECIFICATIONS ARE AVAILABLE ONCE YOU NAME IT !
---
We¨re-
1. professionals label manufacturer based in China.
2. qualified supplier for walmart, Carrefour, Auchan, Tesco, Jusco,Best-buy, Epson...
3. experienced exporter as your potential excellent global sourcing partner...
4. experienced exporter as your OEM labels provider...
5. Expoters Enterprises Ltd having three plants in Shenzhen, Tianjin, Shanghai.
We¨re here, ready to make your label need well satisfied!